Finally some free time to write my first game review post. Today I chose School of Dragons game. This is a old game but it's a great one. Have you watched DreamWorks animation How To Train Your Dragon? Great movie. So School of Dragons is the game where you can have a part in the movie. What does that mean? You can have your own Viking character and train your own dragon. On July 2013 School of Dragon was released. Now it is available for PC and Mobile phones. Let's watch the game trailer: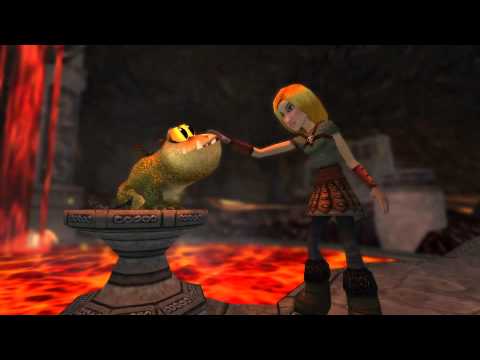 Besides having your own dragon you can play mini games , complete quests, complete some science experiments and exlore the Viking world.
Do you know Hiccup? Hiccup is the main character from the How To Train Your Dragon movie. He is the first one to train a dragon. He trained Toothless. Read more about Hiccup here.
Hiccup part in game is to give you quests and mini games. Will teach you how to ride your own dragon. All the dragons which Vikings trained are able to train them. Toothless stands always next to Hiccup. Perfect team, right?
Some of the mini games are science experiments, fishing, Flight Club, Fireball Frenzy, Thunder Run Racing, Alchemy Adventure, Cogs, Incredible Machine, and Dragon Tactics.
You will get get a farm which serves as an area to personalize and a manufacturing center for numerous useful objects. not not like a scaled-down version of FarmVille, the idea is to plant and water plants and to feed and groom animals, all of which will yield unique products at normal periods. plants, animals, and ornamental objects are bought with coins, at the same time as the harvesting technique may be sped up with gems, the game's top rate foreign money. monthly memberships may be purchased to achieve unfastened gemstones each month and a spread of other bonuses and discounts.
The two most exciting games are the Fireball Frenzy, that is similar to a first character shooter presenting your Viking and dragon because the avatar and taking pictures fireballs at targets, and Flight school wherein you learn how to fly/glide for your dragon in a time attack kind scenario. There are some other games that I unfortunately didn't get some distance sufficient into, which include Thunder Run Racing, but if its name is any indication, it's in which you race your dragons towards others thru flight. I'm unsure if it's towards other players or against computer systems, but both way it sounds pretty enjoyable.
Due to the fact JumpStart is known frequently for educational titles, and there's a strong studying topic that runs throughout the complete game, parents will probably be satisfied to recognise that your child will possibly get some thing useful besides enjoyment out of playing School of Dragons. from time to time theteaching can get a bit heavy-handed, just like the way the alchemist emphasizes the scientific technique to solve certain quests. more regularly even though, the educational components are woven in with the story and gameplay factors in this sort of seamless style that you don't even observe they're there. It's like stealth learning. It's worth noting that studying is pretty a lot a need to, so with out help, the game is probably too tough for more youthful elementary school-elderly children.
It truly is what it is, a game geared toward children. there may be a few hard training stuff inside the game along side some quite funny games. the primary other factor that points toward a kid game is that it's based totally off a film. Granted the game hits the excessive requirements set by Dreamwork's movie in both sound and visuals, however there isn't enough to attract a veteran gamer in for lengthy durations of play. I'd quite inspire it as a game for parents to likely play with their kids or use it as a way to acquire interest in gaming for their kids. the focus stays real to the film nicely enough to preserve youngster fanatics enamored. If you recognize of a child, why don't you provide them the present of a good looking, decently executed game and a dragon of their very own.
Features
Visit familiar friends like Hiccup, Toothless and others from the "How To Train Your Dragon" franchise. Discover new friends as you progress in the School of Dragons!
Play AND Watch -- View clips from the movie that immerse you into the world of Berk!
Fly with Toothless, Thunderdrum, Whispering Death and all the other dragons in Flight Club as you become the ULTIMATE DRAGON TRAINER!
Race your dragon against dragon trainers worldwide to win rewards and glory!
The vast world of Berk beckons you with activities such as learning to fly your dragon, fireball shooting, farming, fishing and so much more!
Create your very own, unique avatar. Pick your own dragon and customize its appearance from a multitude of options.
Socialize with your friends or meet new ones in this fantastic, expansive universe!
Mystery Boxes: Uncover fantastic treasures to help you in the School of Dragons.